Empty space, drag to resize
"One Wound, One Smile"
Size: 150 x 150 cm
Price: USD 4,900

Technique: oil on canvas

"My inspiration for this series began in 2015, when one of my characters told me to 'run away from the lines' and then I began to think about that in a literal way," said Majd Kurdieh. "Many of these pieces actually have a spiritual dimension because surrender is also about submitting to a higher power and embracing the strongest human emotion: love. Surrender and all the rest of the miracles will be possible before you are defeated by the monster.In many of my works on canvas I left the white background empty to tell my viewer that it is not important where you are or in what time zone you are in, what is important for me actually is you, in the Sufi sense where we find clarity in nothingness," - Majd Kurdieh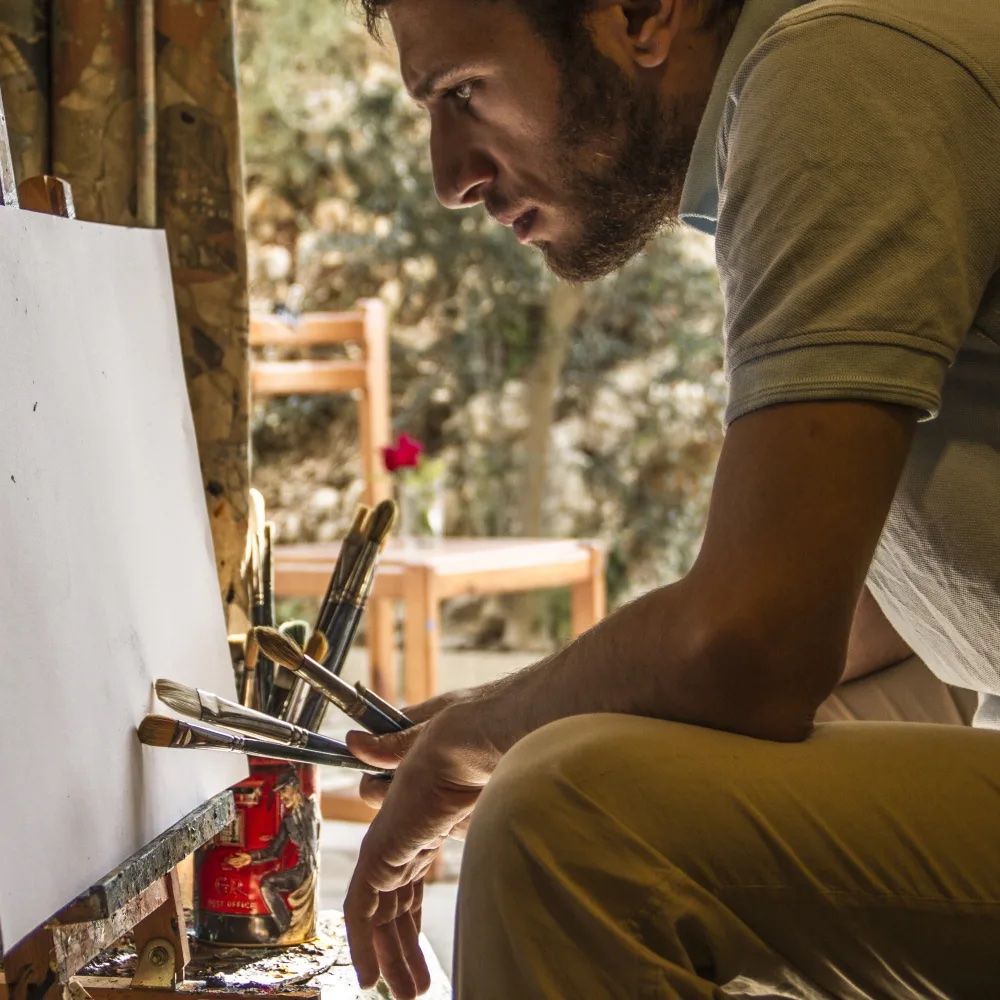 Majd Kurdieh
Artist Majd Kurdieh's practice incorporates painting, drawing, and literature using recurring figures that stand to tell a story, usually carrying a strong moral and positive reinforcement that the artist projects into the world. Kurdieh's works have always been figurative, with his earlier works being a series of trials in realism, mythicism, and other fields. He paints recurring whimsical characters that seem to narrate a story. Over the past four years, the artist has created a 'cast of characters', the two main ones being the Fasaeen (Arabic for 'tiny ones'). The stories told through the representation of these figures are not specific stories that the artist references but rather ones that could apply to any viewer, leaving room for personal interpretation. The Fasaeen, one boy (Fasoon) and one girl (Fasooneh), always smiling despite the fact their world is filled with hardships, are usually accompanied by other characters.

At first glance, the works seem cartoonlike and simple, however, upon further investigation, the viewer is drawn into a complex world that the artist has been able to simplify, almost with a childlike innocence.

Using a strong literary element within his works, Kurdieh joins the Fasaeen with a group of animals that he paints. The group of characters comes together to make what the artist calls 'The Very Scary Butterfly Gang'. Using the paradox of a butterfly and it being very scary, Kurdieh touches upon harsh topics with immense gentleness. He explains that 'when the fragility of a butterfly scares you, you become indifferent to the roars of a monster, you will busy yourself defending the rights of people to maintain their humanity'. At the essence of all his work is a strong sense of human protection and need to shed light on basic human rights and needs. The gang carries out small optimistic tasks like removing thorns from the land and replacing them with flowers, or talking to the sun and the moon, where the sun itself rises and sets at its own caprice, projecting a sense of freedom to the viewer.

Strongly poetic and very sensitive Kurdieh channels the multilayers of his emotions into creating deeply humane art. The ingenuity of his paintings and drawings relays the artist's candor and sincerely draws attention to issues he feels deserve to be represented truthfully.

Recently, Kurdieh has featured in solo and group exhibitions at MADS Gallery, Milan, Italy (2021); Azad Art Gallery, Cairo (2021; 2020); Egypt Art Fair (2022; 2021; 2020); BBA Gallery, Berlin (2019), Fann A Porter, Jordan (2021; 2020, 2019); Fann-A-Porter, Dubai (2021; 2020, 2019, 2018, 2016), El-Sawy Culture Wheel, Cairo (2019), and Athar Al Farasheh, Aleppo (2011), Sikka Art Fair, Dubai (2018) and Art Bahrain, Manama (2019, 2018). His works are housed in public and private collections in the Middle East and abroad, including HE Dr. Zaki Nusseibeh's private collection and Atassi Foundation.

Born in Aleppo, Syria in 1985, Kurdieh lives and works in Amsheet, Lebanon.
Contact Us
General business & partnerships
jon@norwegianculturalcenter.com
REGISTRATION, MARKETING, ETC
valerie@norwegianculturalcenter.com
olga@norwegianculturalcenter.com
Created with