A successful Fundraising Concert
Artists for Ukraine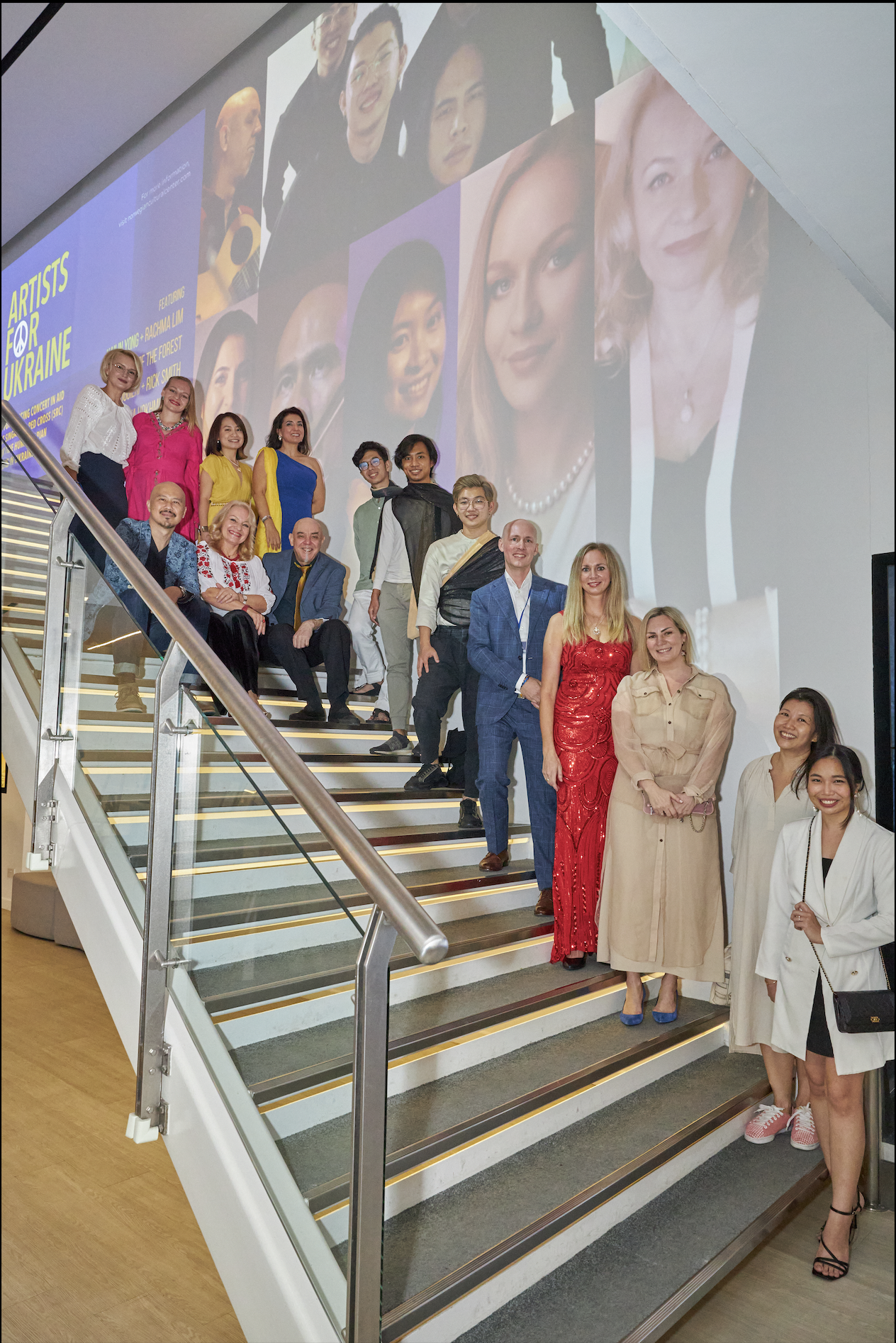 Amount raised as of May 6, 2022
S$ 23,431.37
Kseniia Vokhmianina
Kseniia has been a guest artist in several international music festivals "Days of Music" (Montenegro),"E. Grieg-M. Ciurlionis" (Lithuania), "Convivium Musicum" (Serbia), "George Town Festival" (Malaysia), "International Piano Festival" (Vietnam), and "International Holland Music Sessions" (Netherlands), 65th Pablo Casals Festival (France), which were warmly received by both, audience and music critics.
Iryna Vokhmyanina
Iryna Vokhmyanina combines teaching and performance throughout her professional journey. After completing postgraduate studies, she obtained PhD with the specialisation "Professional Education in Music" and held the position as a Piano Professor at Kharkiv National Pedagogical University (Ukraine) for many years.
Founder and Artistic Director of the project "Symphony of Motherhood" in Singapore since 2012 as well as Founding Member and Artistic Director of "Chamber Music Society of Singapore" since 2015, Honorary President WPTA Singapore since 2017.
Kailin Yong
Kailin Yong known as the "fiddler for peace," was the recipient of the Daniel Pearl Memorial Violin in 2004 for his efforts in building cultural bridges through music. Kailin trained at the Vienna Academy of Music and spent 20 years "living, growing, and traveling" in the US and Europe before returning to Singapore.

He's a seasoned composer, director, and performer who's worked with Flamenco Sin Fronteras, Maya Dance Theatre, David Glass Ensemble, Singapore Chinese Dance Theatre, Bayang Troupe, and many independent choreographers, dance and theatre artists.
Rachma Lim
Rachma Lim is an Indonesian pianist-composer who has been performing in the Singapore Jazz scene since 2009. Her original musical style has the flavors of world music allowing her to collaborate with different genres.

She spent the last decade performing and collaborating with several great local musicians influenced by different cultures like Raghajazz – a jazz Indian-classical fusion band, Orchestra Melayu Singapura (OMS), and international touring vocalists from the US, Canada, and France.
Flame of the Forest
Flame of the Forest (FOTF) is a contemporary music group that engages in the folk culture of modern Singapore. Stemming from its world-fusion roots, the collective was founded during the 1980s passed down to a new generation of young artists; Govin Tan (Tabla), Jeff Tan (Fiddle), Andy Chong (Electronics), Caleb Koa (Keys), and Arthur Widyono (Bass).

FOTF's mission is to inspire and critically engage Singaporeans in what 'originality' means to them, and develop self-identity in an increasingly globalized and homogenized world.
Daniela Ruggieri
Daniela Ruggieri is well-known for her distinctive use of her voice as a complete musical instrument. Her full three-octave extension, and mesmerizing stage presence, always captivate her audience. Her repertoire also includes all-time favorite Bossa Novas and sophisticated Italian songs that she delivers with her unique combination of melodic and rhythmic phrasing.
Daniela's professional career involves global education and a global audience from the USA, Europe, and Asian countries.
Rick Smith
Rick Smith is a guitarist, educator, and composer with over 40 years of professional experience. Based in Singapore since 1991, he continues to contribute to the arts and music scene as both a teacher and performer.

Rick directed the National University of Singapore Jazz band for over a decade and served as the band leader-guitarist at the legendary jazz venue Harry's Bar for 17 years. He is currently teaching at the School of the Arts and LASALLE College of the Arts.
Artwork presented for donations
Olga Sho
"A stream of crystal clarity in a landscape of anxious consciousness", 2021

Olga Sho's works focus on drawing as a process of thinking, cognition and reflection on social phenomena. The series "a stream of crystal clarity in a landscape of anxious consciousness" was born in 2021 as a contemplation over many people experiencing increased feeling of anxiety due to global uncertainties and changes. An abstract drawing starts with a chance of ink flow and then the surface is worked on by the artist to slowly reveal emerging patterns and structures, to build up some certainty. The visual forms of torus (a donut-like shape) represent the idea of social connections, how new communities are born and old dissolved or transformed into something new.

Ink, pencil, pastel on paper.

42 x 30 cm

S$250 (300 SGD with framing)
Mirna Barakat-Brown
S$450
diameter 16.5 x 11 cm
S$450
diameter 14 x 8.5 cm
S$450
diameter 16 x 11 cm
SOLD
diameter 12.5 x 4 cm
S$400
diameter 15 cm x 12 cm

paper pulp, acrylic paint, metal pins
Solomzi Moleketi
Voyage.

A consideration of the colour blue and the feeling of being lost in the world. Oil on canvas. 20cm x 40.5cm
S$350
Kitty Yu Jing
S$30
Is luck real and how does it influence our choice of actions?

Oil Pastel

26.5 cm x 20 cm
S$50
A developed country involves much deforestation, and in that, encroachment of natural land. How much of nature's ecosystem have we, the mankind, disrupted, and tried to resolve our man-made destruction in creating artificial land? This work confronts the consequences of our actions, and the 'new natural'.
Oil Painting
80 x 100cm
S$60
A stationary store I visited during my trip to Korea. A study of light and shadow with colours.
Oil Painting
80 x 80 cm
S$60
Aftermath, 2016 (series of 2 artworks)

Watercolour pencils

22 x 22cm
S$25
Gestural study of a man sitting in a chair, with sun casted down from behind.

Ballpoint pen

21 x 25.5cm
S$20
A batik painting inspired by the flora and fauna of Singapore.

Print of batik painting

20 x 20cm
S$30
A part of my larger work of the same title. In the act of creating the strainers, the mesh has to be pushed and pulled with the use of pliers. This action is symbolic of the struggle of one's turbulent relationship and doubts with his/her religion that one is brought up in. The use of sieves are representative of how we 'filter out' what we learnt from our experiences in creating ourselves. The shadows casted on the wall also symbolises how religion, spirituality - or the lack of it - is a constant influence that is always present in our lives. Spirituality (or lack thereof) depicts how our relationship with spirituality, or the lack of it, shapes each of us into the person we are today.
Sculpture in metal strainer mesh
Approx. 9 cm x 23 cm
S$30
Study of a Woman, 2021

Charcoal and white chalk on paper.

42 x 59.4 cm
Proceeds from this initiative will go directly to
Singapore Red Cross
In Singapore, donations to the SRC fundraising appeal have reached about S$2 million. This includes the Singapore Government's contribution of US$100,000 to the humanitarian operations.

The first tranche of aid from Singapore Red Cross' earlier US$100,000 commitment has arrived in Ukraine, and is being distributed by the Ukrainian Red Cross Society (URCS) and the International Federation of Red Cross and Red Crescent Societies (IFRC), as part of their ongoing response.
The SRC has been in active contact with the Ukrainian Red Cross and the IFRC on the ground situation.

Source: Singapore Red Cross Press Release on March 4, 2022. Full article linked below.
Our Partners
You can contribute to this cause in any way you can. You can send us an e-mail if you want to make a private donation or extend a token to our volunteers for this fundraising concert. No contribution is too small. All help is appreciated.


Created with