Artist Spotlight: Wyn-Lyn Tan
Wyn-Lyn Tan
Wyn-Lyn holds a Master's Degree in Contemporary Art from Tromsø Academy of Contemporary Art, the world's northernmost Fine Arts university.

Her paintings, installations, and videos are rooted in her fascination with natural landscapes, and how they connect across time and culture drives her practice. In recent years, her explorations of form, space, light, and perception question the dichotomy between the two-and three-dimensional.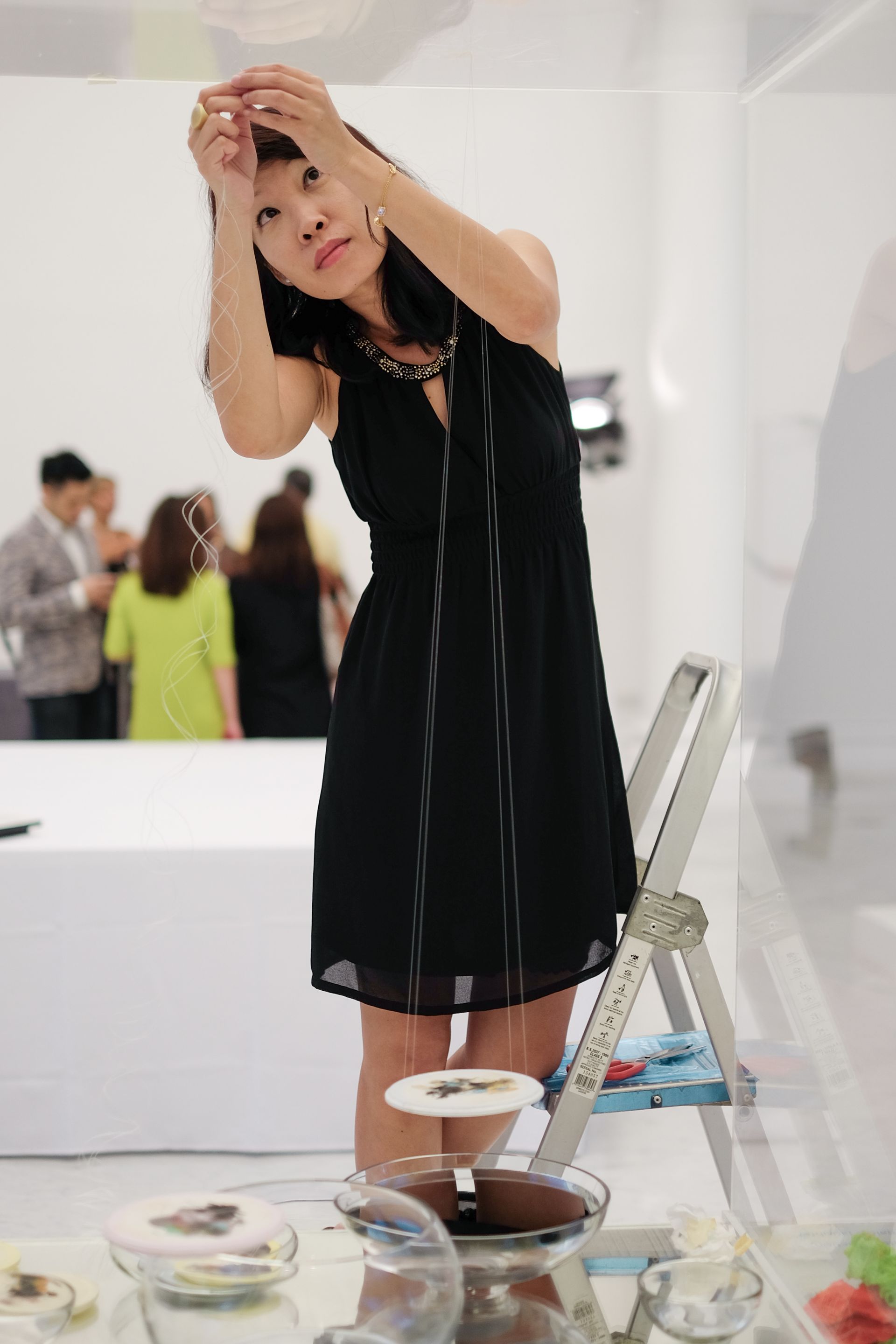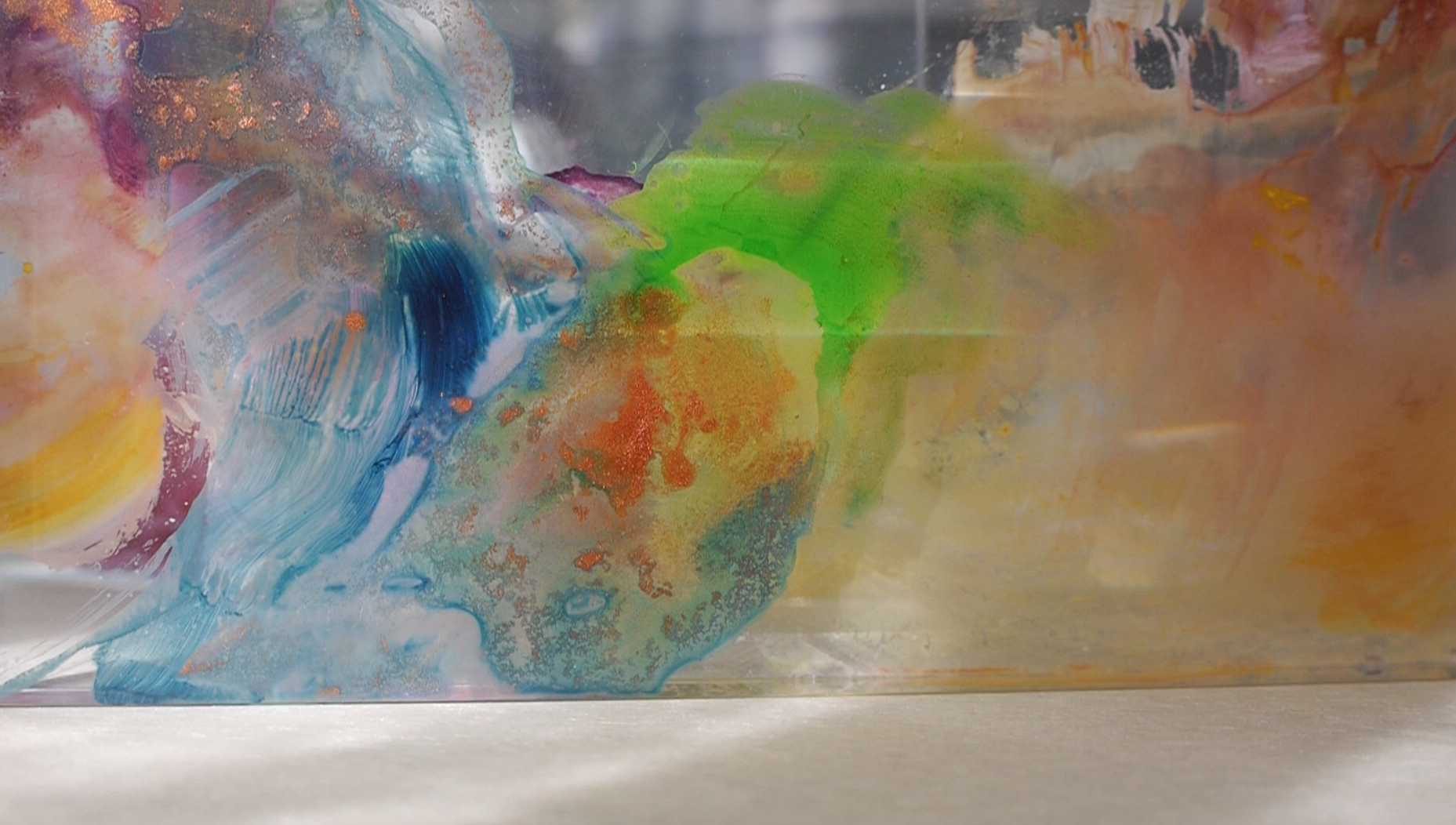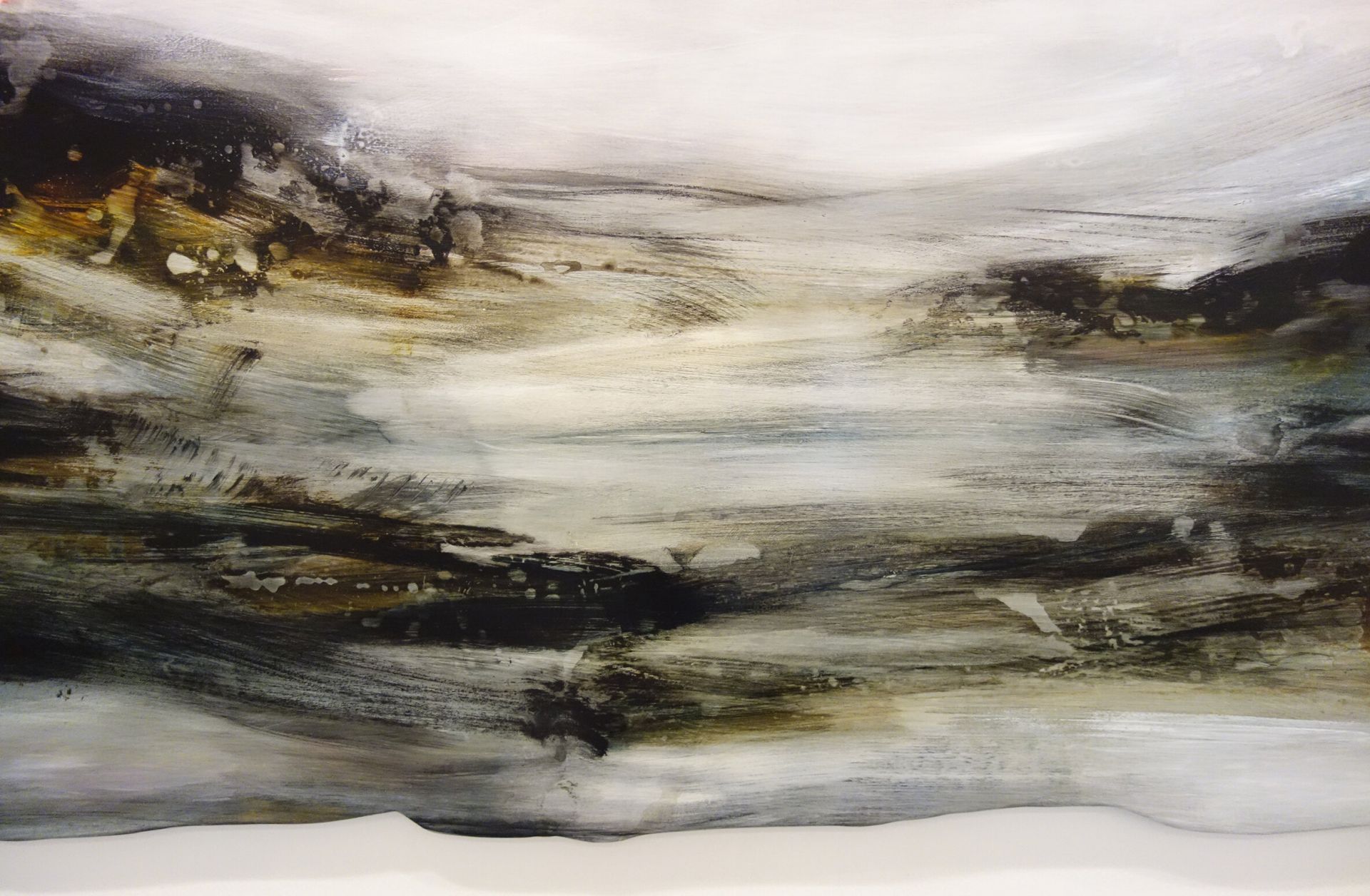 Was there a pivotal moment when you decided to follow your path as an artist?

I wanted to expand my visual language to understand how I view the world and nature around me, and that's why I started pursuing residencies abroad to further my career.

My first residency was in Finland in the northern hemisphere. For me, it was one of the pivotal moments in my practice. It was during the March-April winter season, and the vastness of the landscape reminds me of the Chinese oriental paintings—the east and west. I chose it because I could experience nature closely!

When I realized my visual language, I called Steph from Fost gallery to look at my work. She was already looking at my work and gave me my solo show at Fost in 2009. She provided me a gallery and helped my artistic career. There is support in that sense, especially with a reputable gallery. It helped me in market exposure since I had 5 more shows with Fost. And each show has been a push for my artistic exploration and ideas.

For example, my most recent show was really intense leading up to it, even getting the suppliers and materials! It was challenging for me. As a painter, I'm always curious about what the painting is and what it can be. On that show was the first time I explored the 3D aspect of my work. The galleries supported what I wanted to do and even provided logistical support as well.

The show came together, and I was happy with how it turned out. The experience was necessarily not always to make it traditional, and not need to keep doing the same thing just to sell. Of course, as a commercial gallery, you always want to be sustainable financially, but there's always a balance. It's possible.

Why do you love what you do? What would be the most fulfilling part of being an artist?

I'm following my passion, and it gives me purpose even if all else around me falls apart, there is still my art that I can immerse myself in—that's my primary reason.

Being an artist has also taken me to places that have inspired my life and art. And I would say that it is truly challenging choosing this life since it is differently unpredictable.

In the same vein, it keeps things exciting and I'm constantly curious about the world around me. Life is really interesting where everything is an idea and a possibility.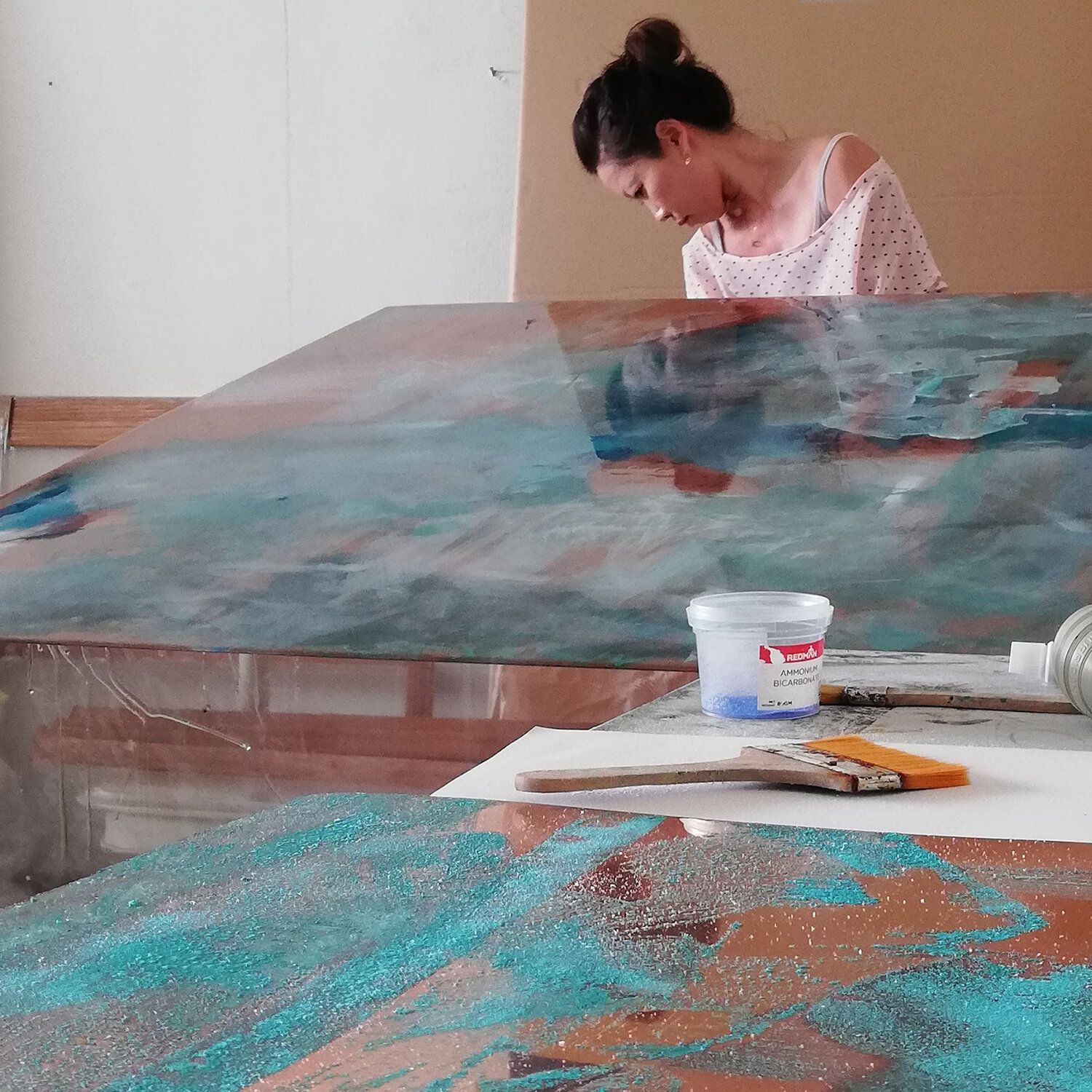 Can you tell us about the process of making your work?

My works are not preplanned it's part of mark-making—unpredictability is crucial and part of my painting process.

When I was at the artic circle residencies, I brought my water-based acrylic paint. When we sailed the North pole and stopped on barren islands, it fulfilled one of my goals of painting outdoors. And as a tropical gal, I didn't know my paint would freeze! Thus making it impossible to paint. That's when I decided to paint with the elements instead.

So I made a series of videos called "Snowscape". I poured water on snow, and it became a layered painting of snow and ice. It relates back to my painting process, how I didn't know what was going to happen, what it reveals or did not reveal, the unpredictability of it all.

The work becomes a live painting. That's one of the new first few paintings without the traditional materials that led me to the wood exploration. Time plays a part as an abstract painter, time to make the mark, for it to dry, rhythmic it helps me explore the approach the medium as well.

Metalwork needs time to oxidize and for the patina to appear, and the mountainous landscape is not intentional. But subconsciously, the work might be influenced by the fjords, or by the Shan Sui Hua—an element of water that abstractly references as nature.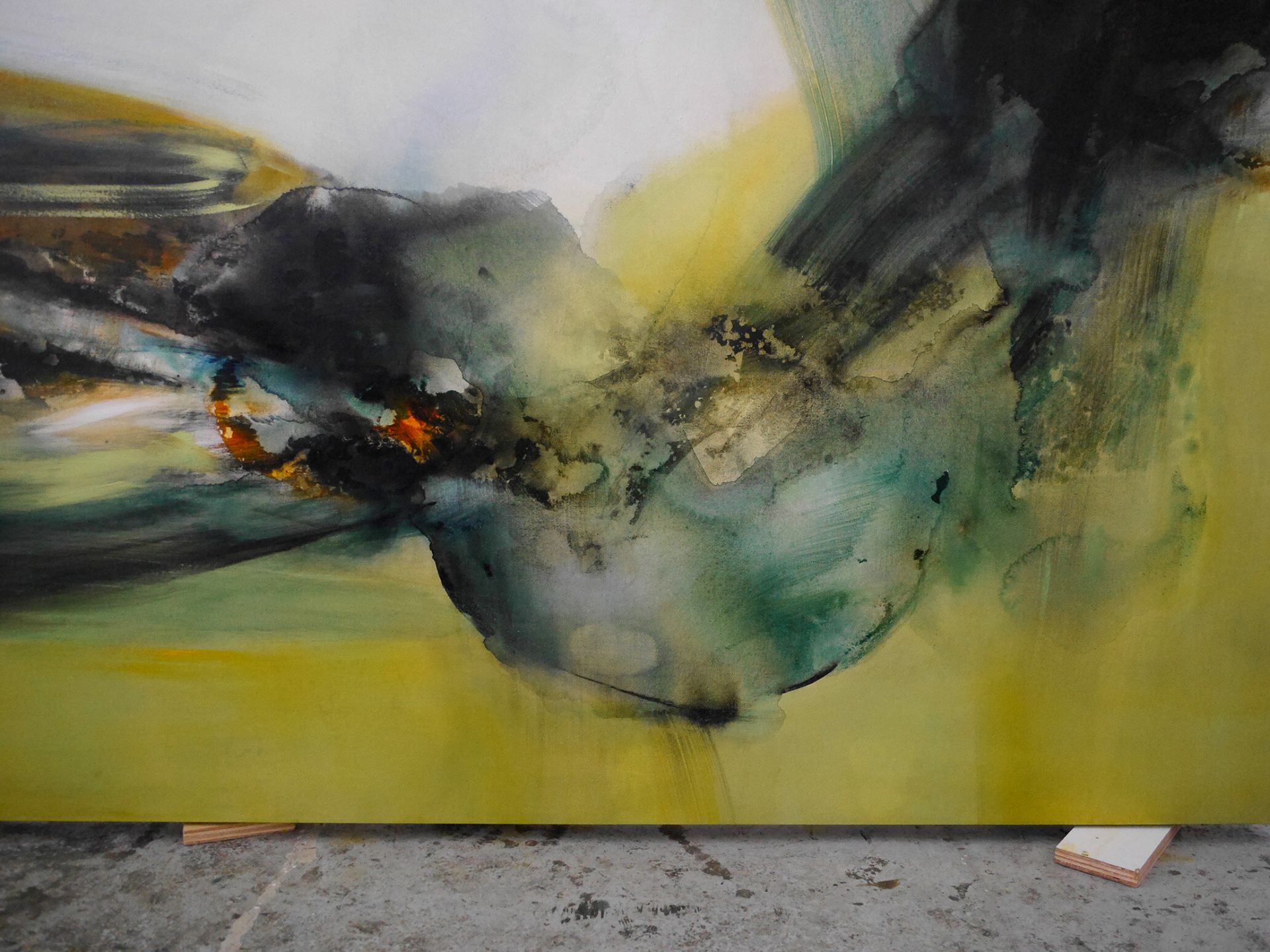 As the art/world shifts into the digital/technological realm, how would you integrate them into your work or at all?
When Covid happened, I held the virtual exhibition titled "Circadian." I'm still tied to tactility and materiality. But to stay connected, the virtual connection became an option.

I held the virtual exhibition that gave a peek into my home. As a private person, it was a leap forward in the exploration of my art. It was my husband's idea to open up digitally to the audience, where I also held an artist talk in my studio with Tan Suili.


While it's not my digital artwork per se, the digital presence helped me showcase my art differently. In the Circadian exhibition, it was the first time I experimented with plexiglass—I saw how the light shone through the plexiglass, and it was fascinating to me.
Where do you seek inspiration for the themes you work on? In terms of mediums and the 'collaborators' in each art series?

It's a very organic process for me. I don't set my thinking that I want to work with a particular medium. I still rely on the core of what painting is to me—light, space, color, and the experiential experience.

The leaping off the core elements led me to explore what a painting can be. For instance, my wood series, "Blue of Distance" is about space. The wall is part of the composition, in turn of the painting of wood — while the idea of Chinese painting was how I came to the choice of the material.

The grain of the wood formed the process of mark-making, and one has to look closely at one painting, where the marks are exposed to the painting of the brush strokes.



You have been a recipient of multiple grants and scholarships along with multiple residencies around the world, not to mention your work represented by private galleries. What would you constitute as a successful artist in our times?

It's a tricky question since there are so many measures of success: keeping your artistic integrity and creating work you're proud of. Financial success is also important—nobody wants to be a poor starving artist for life.

Of course, both are equally important, and it's always about finding balance. For the young artists starting out, they might not show the best show yet, but it's part of the journey. You do it and learn from it. And as you thrive for stability, you can afford to be more selective later on.

For any young artist who wants to make it a career, one has to be realistic—you have to understand it's a long— long journey.


Why did you choose to be part of these residencies?
In these artist residencies, you meet fellow artists from different countries, and you get to network with them to have potential collaborations.

For most reasons, I chose the Scandinavian residencies and in Beijing, China, because of nature. The arctic circle residence was the parallels I saw between the northern hemisphere and the Chinese paintings. The one in Beijing was really to explore the roots of Chinese painting, and I immersed myself in it before I could combine the styles.

The expeditionary residency in the arctic circle made me spend more time there. We sailed to the North with artists and scientists from all disciplines, it started where everyone had different and romanticized ideas on how the North is. The 2-week journey and exploration made me decide that I just wanted to spend more time, and 2 years was a good time.
I also choose the unfamiliar—I like to throw myself into the deep end of the different environments and discover what I can lead to. The sense of curiosity it gives makes it exciting for me as an artist, and it is proven beneficial for my practice.


Based on your international exposure, what can you bring to your fellow artists in the industry?


Just be open about the world! The best thing I took away from the residencies was what we could do for and with nature.

Singapore is an urban city, where nature seems so distant from us. Nature's not fully embraced, and there seems to be some sort of disconnection to it. Compared to the people who live in very nature-driven places like Norway, being able to freely run in a field, the way they approach it, it's very accessible.

You appreciate nature from both the macro and micro perspectives—you understand that it's part of life.


Why do you think platforms/initiatives like NCC's Artist Spotlight are essential?

What I thought was interesting was the connection between cultures. Apart from Norway having a soft spot in my heart, it's a nice way to share stories with local Singaporeans, and how other Norwegian artists are doing as well.

Created with